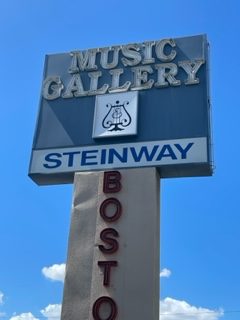 At The STEINWAY Piano Gallery in Clearwater, we have helped thousands of discerning customers choose the perfectly handcrafted instrument from within our huge inventory of new or certified pre-owned Steinways. Along with Steinways, we offer other beautifully constructed pianos from well-known manufacturers around the world. 
With over two decades of experience guiding customers, moving, tuning, storing, restoring, cleaning, and detailing these magnificent pianos, our staff of musicians, teachers, and technicians can help you choose which piano best suits your needs and your budget.
From many of the Clearwater area's finest homes and most prominent families, to local  area churches and large concert performance venues, the 2nd and 3rd generation family-owned STEINWAY Piano Gallery has built its reputation on superb customer service, extensive knowledge of the instruments, and the desire to provide the best possible experience for your piano purchase.
Whether you're searching for a piano for a beginner student or for a well-trained and experienced virtuoso. Whether you want a grand piano, a baby grand, or an upright piano, we are confident that our staff will offer you a wide selection to choose from.
At STEINWAY Piano Gallery, our goal is to provide you with the finest piano at the best price available.
Wear and tear over time can reduce the sound quality and lifespan of your piano.  Parts can crack, piano strings can break, keys can stick.  Besides wear and tear, even the weather, especially here in Florida, can affect how those 88 keys perform.  
Humidity and high temperatures can make wood swell and metal parts rust.  Felt components and other wooden pieces can become unglued.  High humidity can also increase the retention of moisture in the sound board which causes the sound quality and the copper-wound bass strings to deteriorate and sound dull.  
Placed too close to an air conditioning vent, piano wood can shrink and crack from dryness.  Placed directly near a window or slider, the piano wood will absorb heat from the sun and can result in drying out many components.
Ideally, pianos do best when kept within a cool 72-degree environment.  If this isn't possible, never fear.  Most 21st century piano manufacturers have figured out which wood, metal, and other components do well in whatever climate you live in.  They now design pianos with materials that are resilient over a wide range of environments and climates.
Looking to restore a piano you already own?  Because our hand-crafted restoration process is concert quality, we can guarantee that the return on your investment after restoration will be high, both in monetary value and in the aesthetics of your instrument.
Restoration is a very customized experience designed to meet the needs of each piano and customer.  The life of a piano is determined by how much it has been used (or abused) over time. But adding 50 to 70 years of playability and beauty through restoration is a worthwhile investment to keep a valuable, handmade piano alive and well. Restored pianos hold their value longer than brand new pianos.  And they have a family history, which makes them even more valuable on a personal level.
Our restoration experts follow a specific checklist of tasks to perform when working on a restoration project.  Some of the broad steps they take include:
Disassembling the cabinet and parts.

Removing the cast iron plate.

Sanding and refinishing the bridges and soundboard.

Stripping and sanding the cabinet, furniture parts, and bench.

Restoring or replacing original key coverings.

Finishing in the original color and sheen with 22 coats of lacquer.
For most notes, a hammer strikes two or three piano strings at the same time.  They then vibrate together to play one note.  If one of those strings is off-key, the note sounds wrong or out of tune.  That's why pianos need regular tuning at least once per year to keep them playing the correct notes at the right pitch.  
Piano strings stretch over time, noises can suddenly occur in the pedals, keys can stick, or notes can start to sound "twangy."  Regular piano tuning helps to keep your piano in better condition, maintaining its value over the years.  
Did you know that there are over 12,000 moving parts in a piano?  Our qualified technicians are familiar with every single one of them. During tuning, they'll clean the inside of your piano, around all the action components and its parts, underneath and behind the strings, as well as other areas that are not easily reached.  
A visual inspection of the cabinet, wood finish, and veneer is completed, as well as a complete visual inspection of the interior to determine the condition of the sound board, harp, bridges, strings, and dampers. Tuning pins will be checked for proper torque, the condition of hammers and other action components will be checked for wear and tear.
They also perform an inspection of the underside of the piano to make sure there are no cracks, sticky pedals, or broken ribs.
Piano Tuning & Maintenance
Moving and Storing Pianos
Moving a piano is unlike moving furniture.  It's not a desk or a couch or a mattress. Pianos require gentle care, technical expertise, and specialized equipment to be moved properly and safely.  Because our experienced and professional two-man teams understand how precious this instrument is to our customers, our movers are trained and fully insured to carefully move your instrument and deliver it without a scratch, a ding, or a screw out of place.  We trust them so much that we allow them to move our own pianos!  
Do you need your piano to be stored for any length of time?  As an authorized Steinway & Sons dealer, we are fully insured to offer both short- and long-term storage options. We securely wrap each instrument in moving pads and then store them onsite in our climate-controlled storage facility.  There they are wrapped to protect sensitive parts, keep dust away, and maintained at the correct temperature and humidity levels.
In addition, while your piano is being stored, we offer our customers complete cleaning, detailing, and servicing, including polishing the case and brass hardware, cleaning the strings and sound board.  We can also return your piano when you're ready fully tuned, voiced, and regulated. 
In short, The STEINWAY Piano Gallery in Clearwater, Florida offers a wide array of piano professionals to inform and guide our customers.  From selling new and pre-owned pianos, to restoring old or antique pianos, to tuning and inspections once a year, to moving and storing your precious instrument, our staff prides itself on their integrity, experience and expertise.