Steinway & Sons has been one of the most respected and well-known piano brands in the world since 1853.  With a nearly 200-year history of fine handmade craftsmanship, utilizing rare woods sourced from many different parts of the world, and with an artistry that has produced "the piano by which all other pianos are judged," Steinway & Sons pianos, have set the standard for piano manufacturers across the globe.
Every Steinway & Sons piano, from grand to baby grand to upright is a masterpiece of craftsmanship and a consummate work of art. Each piano, consisting of more than 12,000 individual parts, has its own musical character and is as distinctive as the individual who plays it.
Steinway's exclusive, time-tested design allows for the immediate transfer of vibrations from the 233 piano strings throughout the Alaskan Sitka Spruce soundboard and hand-crafted bridge, adding a multitude of musical colors to the substantial and many-hued Steinway palette.  Steinways are usually more expertly handcrafted, with a better grade of materials, which results in a better sound.  It also contributes to the longevity of the piano, some are over 100 years old.
In combination with the Hard Rock Maple sourced from the northeastern U.S. and Canada, Steinway & Sons pianos produce a richer, fuller sound with much less rim sound diffusion.  And their pianos have a distinctive resonance that is known for its longer sustaining tone, its unique warmth, and greater dynamic range.
Let's compare Steinway & Sons pianos to a few other high-end brands one by one.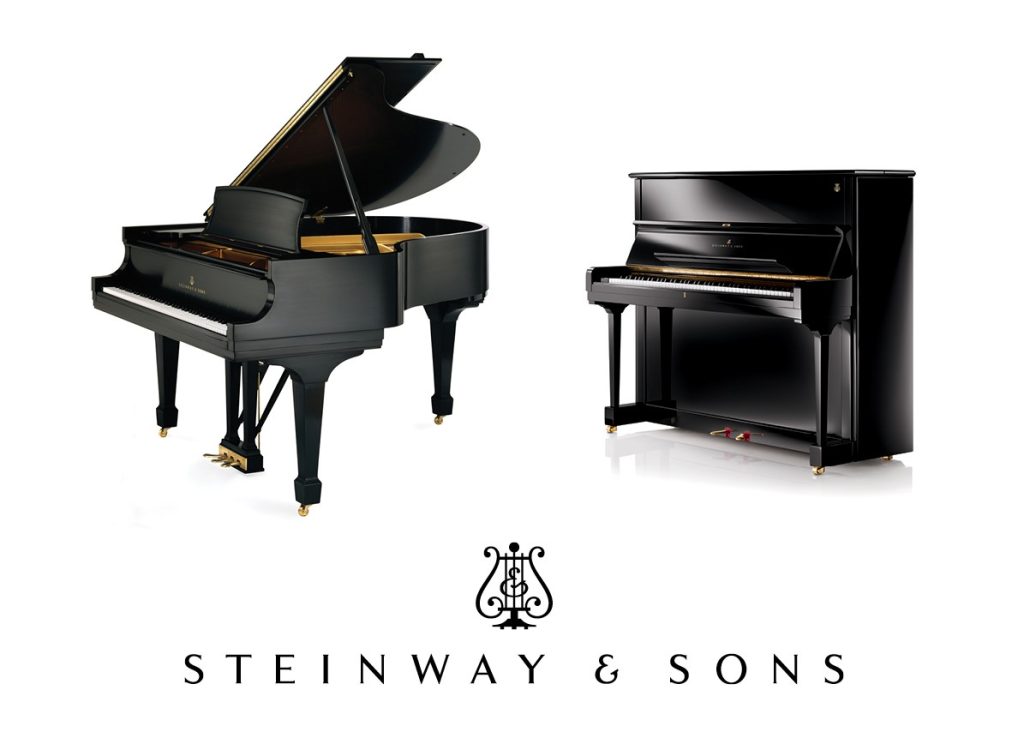 Steinway & Sons pianos vs. Yamaha pianos
Yamaha has worked hard and long to challenge Steinway's dominance in the piano market.  But it's an uphill battle.  With 95% of all concert pianists and other musical performers choosing Steinway for their concert venue appearances around the world, it's hard for Yamaha to make any headway into this prestigious market.
There are major differences between Yamaha and Steinway.  Design, sound quality, touch, the sourcing of materials with which to create the instruments, and pricing.  Yamaha uses Japanese craftsmanship and wood from East Asia.  Steinway has searched the world over, finding the perfect wood for each of the individual 12,000 components.
With some considerable financial backing, Yamaha is now building a series of grand pianos that they hope will compete with Steinway's grand pianos. These pianos have a bright, rich, crystal-clear tone that works well with Pop, Rock, and jazz genres of music.  They're also used quite extensively in the orchestra pits for Broadway musicals.
With a Yamaha piano, it's harder to bring out a different or nuanced sound from the keys.  The sound is bright, always bright.  In a Steinway, you can change the elements of tone by attacking the keys differently, which is why this brand is favored by concert professionals.  But again, this is a personal choice.  What you hear and what you feel when you strike a key. The sound you like best and that is the most pleasing to your ear will determine your final choice of piano brand.
In the end, deciding between a Steinway and a Yamaha piano of any size really comes down to personal choice.  The choice includes the sound quality and tone of the music, the action of the keys and whether you can create subtle differences by the way you strike them.  It includes your desire to keep the piano for many years to come so that you can pass it on through several generations.  And obviously, it includes what kind of financial investment you are willing to make.  Steinway pianos are typically quite a bit more expensive than most other pianos.  In fact, they can, in some instances, cost twice as much as the Yamahas.
Steinway & Sons pianos vs. Kawai pianos
Established in Japan in 1927 by Koichi Kawai, this piano brand has survived and thrived for 90 years, becoming one of the highest production piano manufacturers in the world. Kawai has maintained their reputation for producing high-quality pianos at a price range that is difficult to beat.
The types of pianos they offer range from acoustic grand pianos, to upright, to digital pianos, and they are marketed to students, amateur pianists, and professional musicians at a lower price range than a Steinway.  Every Kawai piano is crafted with great care, and all offer a rich tonal depth.
With both Steinway and Kawai steeped in a long history of fine artisanship, producing hand-crafted pianos using naturally sourced materials, and with being the instruments of choice for many successful professional musicians, the main difference between the two brands is the price.
The Steinway & Sons pianos vs. Schimmel pianos
Both are high quality instruments.  The Steinways are synonymous with handcrafted quality, expansive sound…and cost.  A Schimmel piano is also considered a high quality, beautifully crafted instrument, and they are priced less than a Steinway. 
Schimmel Pianos was founded in 1885 by Wilhelm Schimmel in Leipzig, Germany. By the mid-1890s, Schimmel had produced over 1,000 pianos, with increased notoriety across all of Germany. 
In the late 1890s, Schimmel expanded to a much larger production facility in Braunschweig, Germany. And after World War II, Schimmel was one of a handful of German piano manufacturers to successfully bounce back from the devastation of the war.  During the late 1950s, Schimmel produced the best-selling German pianos in the world.  
Every inch of the Schimmel pianos, both inside and out, is 100% German-made. And with more than 40 awards, Schimmel Pianos became the most highly awarded piano produced in Germany.  
Schimmel pianos can achieve some elements of the Steinway's sound.  Its tone is bright and crisp, and it can deliver a sound that rivals many more well-known brands…at a budget-conscious price.
With Steinway & Sons pianos usually coming in the number one position in most piano rankings, Schimmel, often under-rated, usually takes the number three spot.
While here we've compared only top-of-the-line pianos that are within the same class as Steinways, there are many other brands on the market that make a good piano for students, amateur pianists, and music teachers.  Yamaha, Baldwin, Roland, Kawai, Wurlitzer, Boston, and Essex (both subsidiaries of Steinway & Sons), to name a few.
Each piano maker crafts a different kind of instrument, with different features, different materials, different quality of craftsmen, and they each have different benefits for every variety and proficiency of player. But even with differences and your own personal preferences, some piano brands stand out as exceptional, no matter who sits behind the keyboard and no matter what type of music is played.
Steinway & Sons pianos have been ranking in the top of the top ten brands for almost two centuries. They "own" words like "prestige," "hand-crafted", "reputation," and other superlatives too numerous to list.  They "own" the professional musician's market around the globe.  They are recognized as "the piano by which all other pianos are judged."  
There are other high-quality piano brands available.  But nothing beats a Steinway.