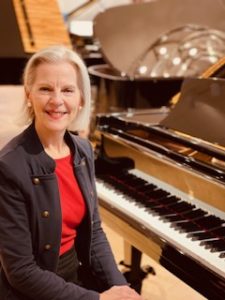 Contact info:
Pam Sigal
5 N Arcturus Avenue
Clearwater, FL  33765
727-492-7705
EDUCATION:
At age six Pam began the study of  piano and choral singing at Immaculate Heart of Mary School.  After taking private classical piano from Dr. Martin Marks at Jordan College of Music in high school, Pam went on to  major in Music Education and Performance with Choral Studies at the University of Wisconsin, later receiving a BFA from Indiana University at Indianapolis.  In order to expand into other genres, Pam studied jazz piano with Jay Galbraith and furthered her private vocal studies with retired Metropolitan Opera singers Rosalia Maresca and Nancy West.
EXPERIENCE:
–Teaching in private elementary schools in the Tampa Bay area for over ten years.
–Producing and directing semi-yearly student recitals at Steinway Piano Gallery Tampa Bay as well as other professional venues.  Pam strongly encourages performance opportunities, which she considers invaluable experience.
–Coaching and preparing students and professionals for piano and vocal auditions from school musicals and talent shows to Broadway for the past 20 years.
MISSION STATEMENT:
To instill a love of music, while emphasizing excellent communication/aesthetic skills and of course to have fun while working hard!
EMAIL:
pamsigal@tampabay.rr.com