Born in 1797 in Wolfshagen im Harz, a small part of the town of Langelsheim, Lower Saxony in Germany, Heinrich Englehard Steinweg attended public school until the age of 15 when he was suddenly orphaned when his father, mother, and all but one sister died of hunger and exposure during a terribly frigid winter.  
Not long afterwards, Heinrich left school and joined the local volunteer army of the Duke of Brunswick-Wolfshagen.  The army was tasked with resisting the invasion and then occupation of Napoleon during the Napoleonic war campaign of the Hundred Days in 1815.
In 1822, he was discharged from the army and began to work as a woodworker and cabinet maker.  A few years later, he became an apprentice to an organ builder in the town of Goslar, Germany and soon discovered his passion for music.  In fact, with having never had a lesson, he began playing the organ at his local church until he discovered his special talent.
At home hidden in his kitchen, Heinrich started secretly building guitars and zithers that impressed many of his friends and neighbors with their one-of-a-kind designs and pristine craftsmanship. He soon graduated to creating small handmade pianos.  But because he had not joined the official Carpenter's Guild or Zimmermeister Guild, Henry had to hide his many creations from the world.  
In Germany, carpenters, woodworkers, furniture builders, wood carvers, and other artisans had to have three years of training before becoming licensed.  The guild was responsible for the support, registration, and professional training of all these craftsmen.  
Once a carpenter or woodworker completed his professional training, they were then required to travel for three years and a day using their skills to help fellow Germans with building projects.  An interesting piece of trivia, the Zimmermeister Guild is where the phrase "jack of all trades" comes from because of all the different kinds of projects the members worked on.
Anxious to get on with his craft, Heinrich opted against joining the guild and continued to work in secret on his pianos, instead of traveling around the country doing work for other people.  And in 1835, after working for two years creating a special square piano, Heinrich proudly presented it to his bride on their wedding day.
A year later, in 1836, again secreted in his kitchen, Heinrich finished building his first grand piano.  This piano was later named the "kitchen piano", and it is now on display at the New York Metropolitan Museum of Art.  "Art" being the definitive word.  Heinrich was a true artist who lovingly designed and shaped wood, hand crafted the piano soundboard, and pulled and tuned the piano strings to a perfect pitch. Ending up with a glossy veneer finish that is still unmatched today.
Over the next 14 years, Heinrich continued to grow his in-home business of piano building.  His reputation also grew and soon, he was known as one of the best piano makers in Germany.  But he was still working in secret in his kitchen.
In 1850, Heinrich and his wife Juliane decided to emigrate from Germany with their five sons due to political unrest in the German states.  Revolutions were rampant around the country, and because he had never become a member of the carpenter's guild, there were limited economic opportunities for him to earn a decent living to support his growing family.
Before leaving Germany for New York City however, he gave the piano company he had built in his small German kitchen to his oldest son, Christian Friedrich Theodor Steinweg, who not only expanded the company, but who at 25 years of age, created many innovations in piano manufacturing. He later held some of the 139 other Steinway patents for his work.
In New York City, Heinrich anglicized his name to Henry E. Steinway after his friends advised him that a German surname might be disadvantageous for doing business at that time.  And in 1853, in his brand-new Greenwich Village manufacturing plant, Henry stamped the serial number 483 on the first ever Steinway piano crafted in the United States, following the 482 he had already crafted in his kitchen in Germany.
Having been acknowledged the world over, the Steinway piano soon became recognized for its superior artistry, outstanding quality, and its defining design that became the blueprint for the perfect modern concert piano. 
For nearly two centuries, hand-built Steinway pianos have inspired composers, musicians, and pianists around the world.  From Carnegie Hall to Lincoln Center, to the Vienna Opera House to Prince Albert Hall, Steinway pianos and the people who play them continue the Steinway legacy through the arts. 
In fact, over 95% of the world's leading concert pianists choose to perform exclusively on the world's most technologically advanced Steinway pianos. That achievement alone speaks to the quality and legacy of the piano once built in secret in a small German kitchen in the Harz Mountains.
Steinway pianos are hand built in New York City and in Hamburg, Germany.  Brilliant engineering, the highest quality materials, superb design, and history like no other, these pianos have a distinct and unique sound known the world over.  With the slightest touch, the keys of a Steinway produce crisp, clear music that speaks to the humanity in all of us.  
From the near silence of a quiet pianissimo to the majesty of a powerful fortissimo, 
Steinway was and still is one of the most famous brands and most respected and coveted pianos on the market today, setting the standard for piano manufacturers and piano owners across the world.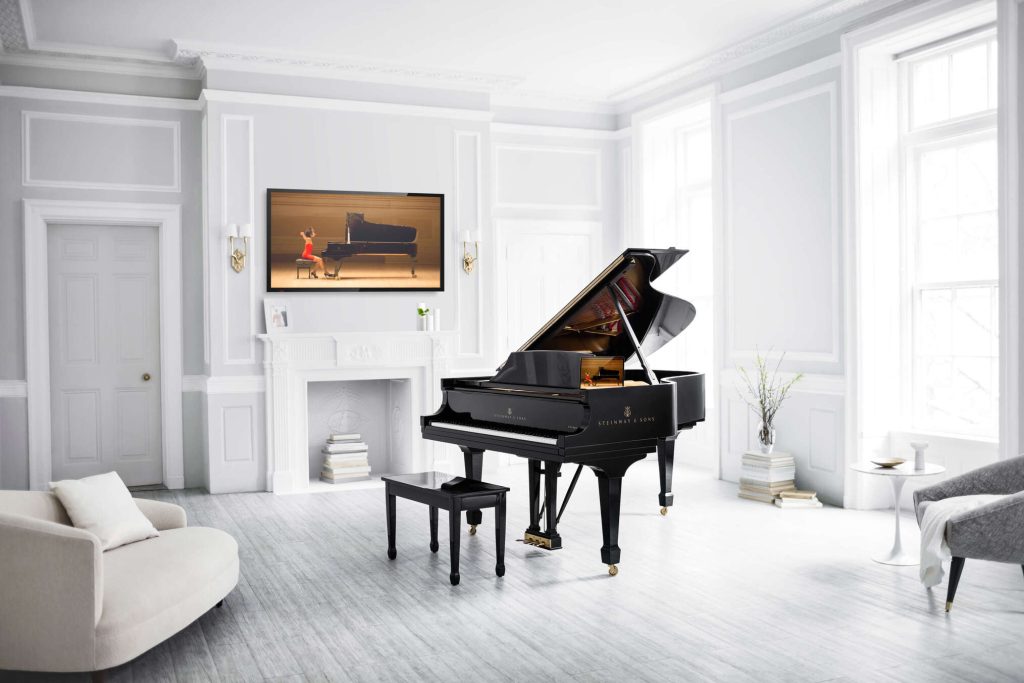 Today these magnificent pianos are still made with exceptional care by meticulously trained and highly skilled artisans.  Each instrument includes over 12,000 components and takes nine months or longer to painstakingly craft in one of the historic Steinway factories. 
But Steinways are not just for classical pianists whose names are known throughout the world and throughout the ages.  Names like Chopin, Rachmaninoff, Rubenstein, and Horowitz.  And more recently, names like Diana Krall, Lang Lang, Elton John, Billy Joel, and Stevie Wonder.  
These pianos are also for people who understand the power of the Steinway legacy.  They are for concert halls, band shells, churches, and schools of music.  They are for piano teachers and rock 'n roll bands.  They are for any musician who honors the skill, time, and expertise it takes to create this glorious instrument.
But it isn't just the famous names who only play on a Steinway piano, it's the company's design, and expert artisanship.  It's the fine veneers, the cast iron plate that stabilizes and balances the overall structure of the pianos and absorbs tension from the strings. It's the soundboard that is 100% constructed from Sitka Spruce sourced entirely from one island in Alaska.  It's the exotic woods used to craft a Steinway.  Woods that include the highest quality mahogany, walnut, Kewazinga Bubinga, Sycamore, and others.  
And the finish?  To achieve the world-renowned glossy shine and mirror finish that Steinway is famous for, skilled craftsmen must apply up to six layers of polyester coating on all the wooden surfaces.  It takes three weeks for a thick layer of coating to dry.  In between each layer, the coating is sanded, buffed, and polished.  When they're finished, there is a one-millimeter-thick layer protecting the wood.
As we make our way from a small kitchen in nineteenth century Germany through to the twenty-first century, Steinway continues to innovate, enhance the design, appearance, touch, tone, and structural stability of these instruments.  Every single piece of each Steinway piano is fine-tuned, built with uncompromising quality and skill.  A collaboration of vision, talent, quality materials, and a desire for perfection, all coming together to create an incomparable instrument that will continue the Steinway legacy for years to come.